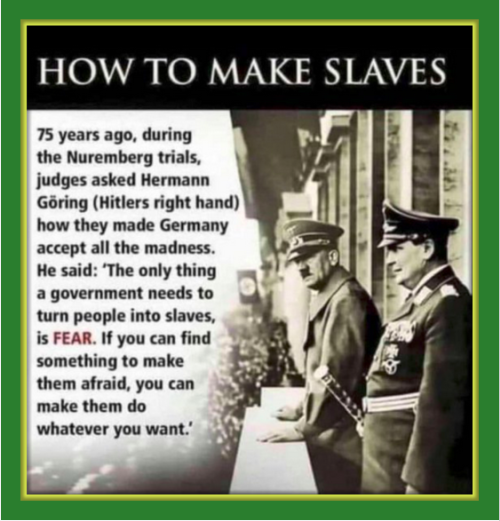 Today's health issue is fear. With everything that's going on around us these days it is easy to fall into fear and then depression. The other name of fear is anxiety. Now that sounds more familiar. Anxiety and depression are like sisters. They usually come together. When we are continuously anxious depression sets in. So, what is the antidote to anxiety (fear)? The antidote to fear is not bravery or courage, it is FAITH! Bravery and courage are only offshoots of FAITH.
So, faith in what? Faith in ourselves? Faith in our own strength and capabilities? That is Humanism, the foundation of Communism. Has anything ended up well with Communism? Faith in "luck" or your "lucky stars"? That's optimism. It is convenient but so much is left to chance! How about faith in the God who promises to defend and take care of you, never forsaking or leaving you? You don't have a belief in any god or gods?
Well, consider. The phrase, "do not fear" occurs 60+ times in the Bible. Some of its occurrences I list here:
Deuteronomy 3:22 Do not fear them, for the Lord your God is the One fighting for you.'
Isaiah 41:10 Do not fear, for I am with you; Do not be afraid, for I am your God. I will strengthen you, I will also help you, I will also uphold you with My righteous right hand.'
Lamentations 3:57 You came near on the day I called to You; You said, "Do not fear!"
Revelation 2:10 Do not fear what you are about to suffer. Behold, the devil is about to throw some of you into prison, so that you will be tested, and you will have tribulation for ten days. Be faithful until death, and I will give you the crown of life.
Matthew 10:26 "So do not fear them, for there is nothing concealed that will not be revealed, or hidden that will not be known.
Matthew 10:28 And do not be afraid of those who kill the body but are unable to kill the soul; but rather fear Him who is able to destroy both soul and body in hell.
Fear is a real trick of the Enemy. But Jesus says, "In the world you have tribulation, but take courage; I have overcome the world." (John 16:33) Jesus overcame the world in our behalf that we may, together with Him, triumph over the world. If you haven't made the commitment to let Jesus be Lord and Savior of your life, seriously and for real, this is the time to do so. We need to cleave with the one who can save us – Jesus! For those of us who already have, this is a good time to recommit our lives to Him. Draw closer to Him more than ever. It is the fear that will defeat us but if we have Jesus, the reality of His love in our daily lives will drive away all fear from us.
Psalm 23:4 says, "Even when your path takes me through the valley of deepest darkness, fear will never conquer me, for you already have! Your authority is my strength and my peace." (The Passion Translation) …. Let Jesus, not fear, conquer your heart!
__________________________________________
Credits:
Picture from https://twitter.com/themars13959760/status/1457184804915408904?s=28
All Scripture quotations are from the New American Standard Bible, Bible Gateway, www.biblegateway.com, unless otherwise specified.
______________________________________________________________________________
If you wish to cite this blog, citation is as follows: PureJoyLand. (2021, Nov 8). Do Not Fear [Blog Post]. Retrieved from https://purejoyland.com/2021/11/do-not-fear/
_______________________________________